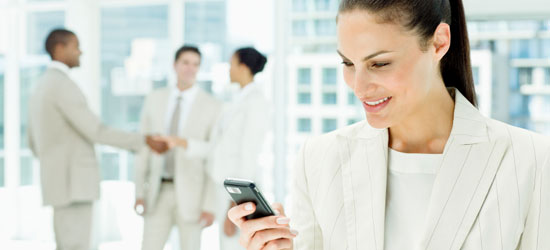 Searching for the Best Business Solution...
Choosing the right communications solution is one of the most important decisions and investments a business can make.
At Netcom we cover all five networks, we are completely impartial. This way we are able to select the very best deal to suit your requirements. We can run comparisons of any bill against all available service plans in the market and ascertain which works best for your company's telecommunication needs. We manage the entire porting or migration process on your behalf. Our years of experience in connections, migrations and ports ensures a smooth, on-time and seamless process for our customers.
Netcom prides itself in offering the very best one to one customer service to UK businesses. We won't drown you with jargon and tech-speak, we will deliver you the most cost effective communications solution to suit your business.
If you prefer, we can have 3rd party access on your account, you can tell us what you want solved and we do all of the work behind the scenes, giving you zero administrative hassle. You can sit back knowing you are in safe hands.
Case Studies...
Netcom has worked with an array of businesses, constantly providing a reliable efficient service. Building good business relationships and offering ongoing support. Here are some of them...
Sports Management
Sports Management is one of the world's leading athlete management companies. Clients include many of the top stars in track & field, road, cross-country and marathon running from sixteen countries around the globe. At Netcom we thoroughly reviewed every aspect of their usage. The nature of their business includes a great amount of international travel and calling. We found a solution that encompassed all of their requirements with great money saving benefits.
Golden Globe Commodities Ltd
Golden Globe Commodities Ltd offers a central platform for professional commodity investors. Netcom had an onsite visit which meant we could really comprehend what Golden Globe were hoping to achieve. By understanding their business we made recommendations and found a way to ensure they had the maximum benefits from their telecoms package.
Mylbrook
Mylbrook is an independent dealership selling quality new and used commercial vehicles. They contacted Netcom from a recommendation. Mylbrook wanted to have more control over ever increasing bills and to update their handsets. Netcom reviewed the usage across the account and implemented a money saving answer on an alternative Network which gave Mylbrook the ideal solution.
Absolute Concepts
Absolute Concepts are a marketing agency, providing design, production and many other services. After several meetings it was apparent that savings could be made, Netcom worked closely with Absolute Concepts to source a package tailored to suit their specific requirements.
Geneva Developments
Geneva Developments has brought a fast and fair approach to the business of buying and selling land and property. Netcom met with Geneva Developments over nine years ago, since then we have built a very strong working relationship. Offering continued one to one support and providing a variety of excellent value telecoms and data solutions.
To find out about the best communications solution for your business, contact us.